Carol developed and has directed Forget Me Not Farm since its beginnings in 1992. With more than 35 years experience in humane education and animal welfare, Ms. Rathmann holds a Master's Degree in Psychology with studies focused on the benefits of animal assisted and horticultural therapy to child victims of abuse and neglect, as well as certification from Harcum College (1998) as a Specialist in Animal Assisted Activities and Therapy. She is the recipient of many national awards recognizing her for her innovative work in the prevention of child and animal abuse. Carol lives on a small farm along with 15 + animals she has rescued. As director and Founder Carol oversees all aspects of the Forget Me Not Children's Services with a special focus on grants, donations, and program sustainability. Contact Carol Rathmann at (707) 577-1913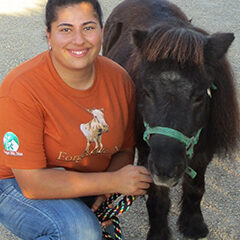 Teresa first worked at Forget Me Not Farm in 2010 as an intern from Sonoma State University. After obtaining her BA in psychology, Teresa worked in temporary positions at Forget Me Not Farm Children's Services until she became full time in 2012. She works hands on with all the groups that participate in the farm. Teresa also maintains the barn and cares for the animals therein. Teresa works directly with volunteers in the program and directs all aspects of the farm''s day to day operations. Contact Teresa Stockton at (707) 284-2501
Jeanie comes to the farm from years of public service at the California Medical Facility - Vacaville as a correctional officer. She comes from a lineage of family farmers with a wealth of knowledge from which she draws upon. Over the years Jeanie's weekend duties have grown from just tending to the animals and gardens to now running tours and community service youth programs, in addition to one-on-one client work. Her deep knowledge in animal husbandry and her enthusiasm for working with people make her a unique asset to the farm.
My name is Tori Henkel, I started out as a volunteer at the farm before I was hired. When I'm not at the farm I am usually roller skating with my 5 rescue dogs!
Alone we can do so little; together we can do so much.